What better time than now to change the world?
That question was at the core of the creation of the National Leadership Network (NLN), a new initiative to bring America's community leaders together.
Launched in the spring of 2020, NLN is an engine of connectivity, a collaboration to motivate graduates of the nation's 800-plus Community Leadership Programs (CLPs) – an alumni pool that is 700,000 strong – to act and think big. The concept is rooted in a powerful premise: that activating diverse leaders from all corners of the country can be a catalyst for national change.
 Mike Ritz, executive director of Leadership Rhode Island (LRI), first floated the notion of a national network of community leaders while talking with senior executives on the Association of Leadership Programs (ALP) governing board at a conference in Phoenix in 2017.  Together, they shared the somewhat radical realization that the issues their communities were grappling with simply weren't contained by state lines.
That hunch was confirmed when LRI commissioned Starr Opinion Research, an international surveying organization, to ask a wide swath of CLP leaders nationwide about their organizational concerns, their values and their approaches to problem-solving.   
 The results revealed that administrators of  leadership development programs, regardless of geographic location, share similar values and support similar practices. Specifically, the surveyed group overwhelmingly agreed that the inclusion of a diverse group of individuals increases the likelihood of lasting change and that honest dialogue is both the foundation beneath and fire behind meaningful progress.
 And yet CLPs have historically been just what their name suggests — community oriented, and therefore defined by the boundaries of a body politic. What would happen, the senior executives posited, if their graduates could share their experiences, problems and solutions through a vast coast-to-coast network?  What could they achieve, they wondered, if their alumni applied the search for common ground at the community level on a much bigger scale?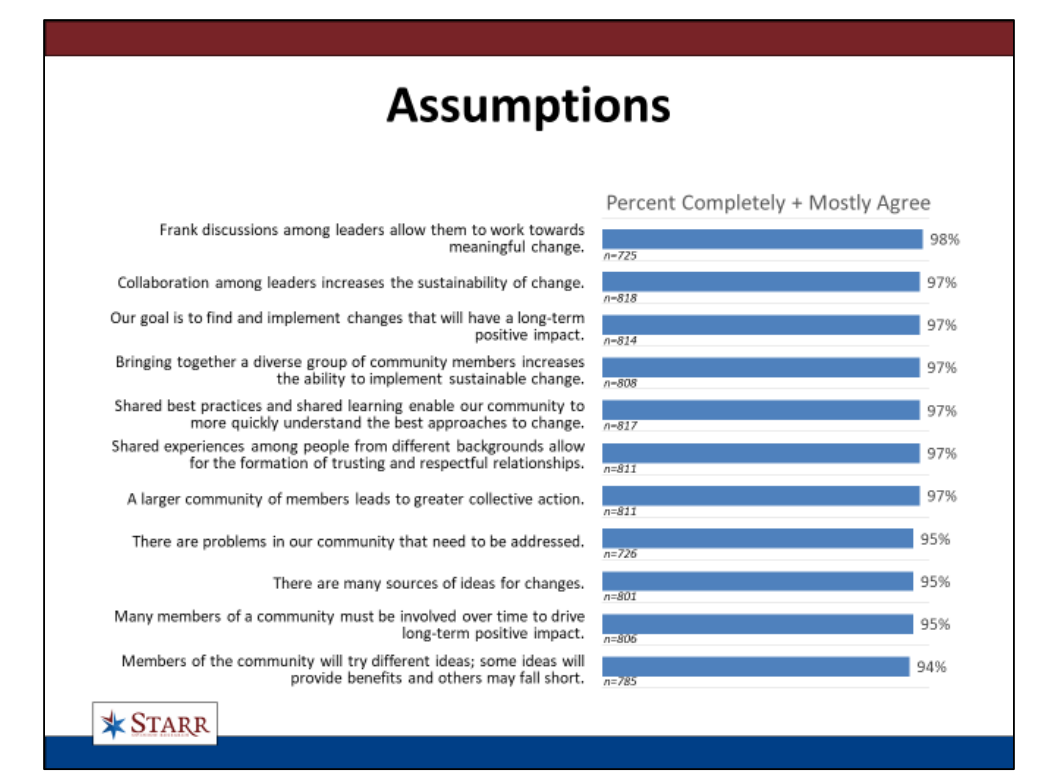 Results from the National Alumni Leadership Insights survey conducted in 2020 reflect strongly shared values of alumni representing programs across the country.
"The possibilities are really limitless," says Ashley Mudd, executive director of Leadership Institute of Acadiana in Louisiana, who was involved in the early conversations about NLN.
 "I was so surprised no one was leveraging the existing alumni base and also so excited about what could happen if it were done. My mind went immediately to what it could look like, how exciting it is, and what we could achieve. It was very clear that what we were really talking about was how the world could improve."
Convinced they were on to something, Ritz and Michelle Carr, LRI's deputy director, continued to advance the idea of a national network at leadership gatherings in Nashville, Louisville, and Kansas City. In 2019, they went big, presenting the concept at a formal, invitation-only session during ALP's national leadership conference in Tulsa.
 Spurred on by the positive reception to the concept, planning for a national convening in Providence in 2021 reached top-of-mind status at Leadership Rhode Island headquarters, a plan abruptly paused in the spring of 2020 by an unexpected deadly visitor called Covid-19.
 The pandemic brought with it unprecedented isolation, disruption and national discord. Thoughts of a large-scale gathering joined the pandemic casualty list.
 Ritz, together with Carr, who was already well-versed in the best practices of communicating in cyberspace, immediately focused on pivoting LRI programs and services to virtual platforms.  "What could have been a huge set-back was reimagined by the LRI senior team," Ritz says.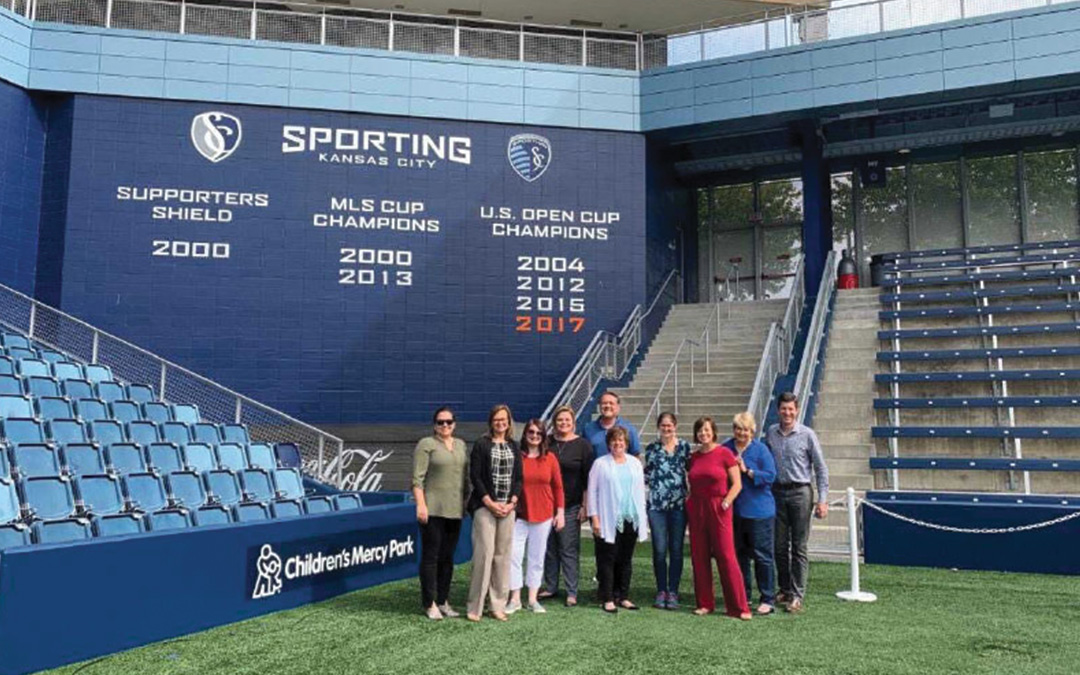 Directors of Statewide Community Leadership Programs discussed the potential of a National network at a 2019 meeting in Kansas City.
As shutdowns rippled across the country, Denise King of Leadership Denver reached out to Ritz, Wendy Thomas of Leadership Tulsa, and Jessie Baginski of Leadership Lake County, who was chairing ALP's board at the time, to suggest that ALP take the lead in helping local leadership programs endure the crisis by adjusting to virtual conferencing and communicating.  "We have the power to marshal the creative ideas from across the country to continue learning, connecting and demonstrating leadership when our communities need it the most," she wrote in a March 2020 email.
Within days, Leadership Rhode Island staff were running training sessions on virtual convening for hundreds of community leadership staff members across the country. 
 "With everyone suddenly on video instead of in person, many boundaries just disappeared," says Ritz. "At a time when the world needed leadership arguably more than ever, that fundamental shift opened up a world of possibility to bring people together and find solutions through common ground."
And so the idea of a national network of community leaders found new life, born again in the virtual space. During a time in which other industries were forced to cut back or shut down, Ritz and his core group of leaders saw an immense opportunity for innovation in the name of the greater good.
LRI launched the National Leadership Network on May 5, 2020 at a session appropriately entitled Come Together, which closed with a familiar anthem: "We Are Family" by Sister Sledge. 
 The inaugural year program featured a four-part Discussions That Matter series, in which red-hot topics, such as Policing, Protesting, and Election Security, were examined, each with the express purpose of hearing from experts and challenging the status quo.
Planning the signature series reinforced the very premise behind the NLN:  Connecting with other leaders from different geographical regions opens doors to new perspectives and to improving just about every undertaking. 
To illustrate, Ritz credits Wally Siewert, director of civic engagement for FOCUS, the leadership program in St. Louis, MO, for helping to design the format for the issue-based discussions.
Siewert's opening presentations for both sessions on Policing and Protests demonstrated his supposition of "two truths in tension" – an approach, Ritz says, that validates the beliefs of those on opposite sides of an argument, freeing participants to get on with discussing their differences while respecting one another.
"We used this brilliantly simple approach to frame other NLN discussions and I've since used it in LRI's programming, too," Ritz says.
And, as Ritz expected, the national network of leadership program alumni is loaded with creative thinkers, experts and experienced leaders. In its inaugural year, NLN drew upon Nichole Barnes Marshall, vice president and chief diversity and inclusion officer at L Brands in Columbus, OH, a graduate of both Leadership Greater Chicago and Leadership Columbus, and two women tops in the field of election administration: Kathleen Hale, a professor of Political Science at Auburn University and graduate of Leadership Stark County, OH, and Amber McReynolds, a graduate of Leadership Denver.
In all, NLN offered a dozen get togethers of various types between May and November of 2020, drawing in more than 2,000 virtual participants from 47 states to network, to address real issues and find concrete ways forward.
 The events were a huge success, bridging divides and bringing people together who otherwise would never have crossed paths. And in many ways they were a model for how NLN could operate going forward.
 The human-centered approach behind the signature Discussions that Matter series also lies at the heart of NLN, according Josh Starr, founder of Starr Opinion Research. "National Leadership Network's core belief is that we are stronger together," says Starr, who serves as an NLN strategic advisor.
"We believe in people, plain and simple. NLN is engineered as a relationship-driven organization that exists to mobilize some of the country's top talent to solve society's most pressing issues: systemic inequality, rampant racism and polarizing bipartisanship to name a few. The truth is that the more people you know, the more help you have to address them."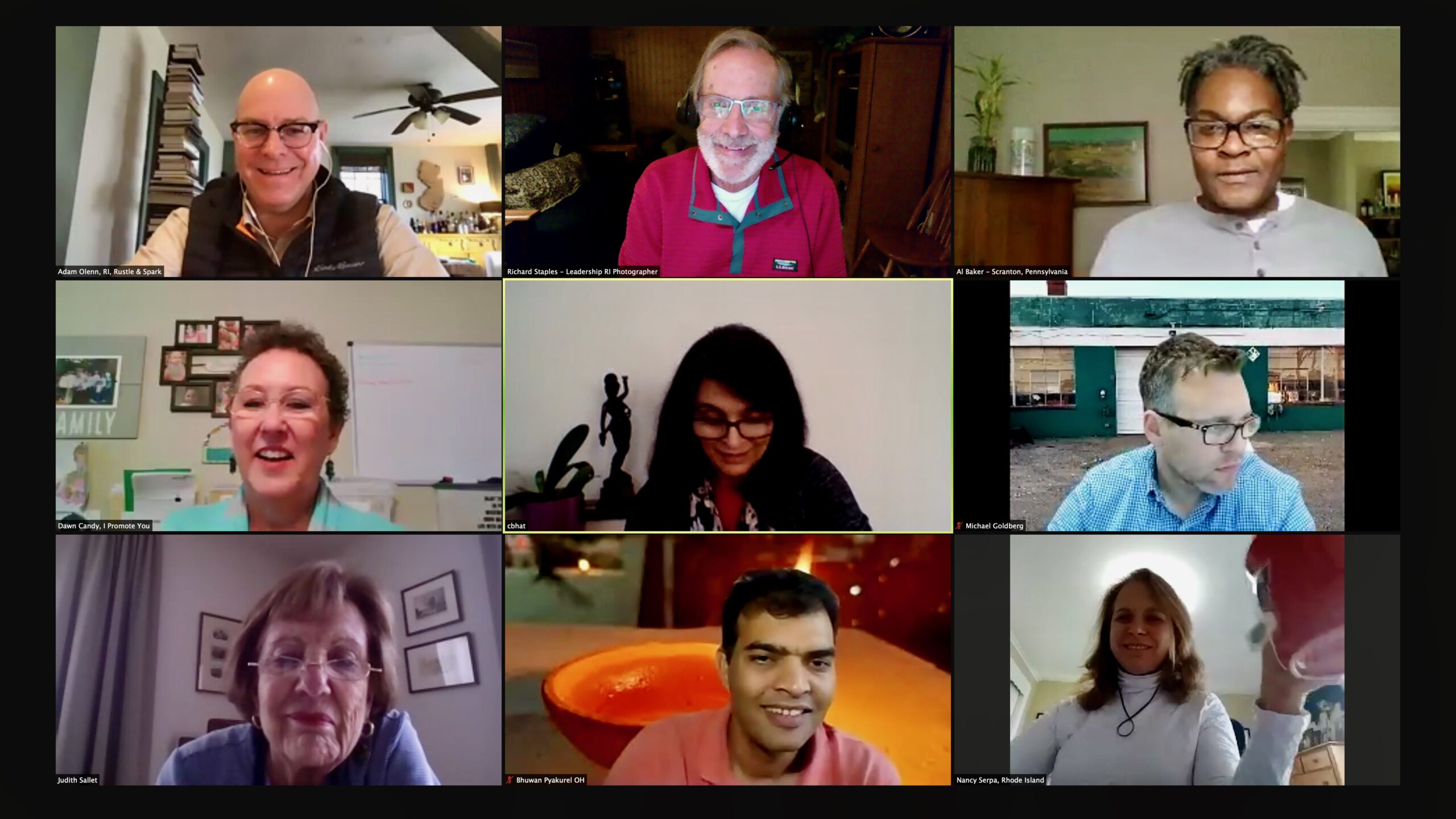 A group of alumni representing the country strategize how to impact their communities in a breakout session during a Discussions That Matter event.
 The craving for that kind of space and that method of action is real among CLP alumni. In a second national survey by Starr, this time aimed directly at alumni, a whopping 83 percent of respondents said they feel they "have an obligation to publicly demonstrate how local leaders from different backgrounds can work together to improve their communities."
 Now in its second year, NLN is starting off with a discussion series on the characteristics people look for in their leaders, according to
Gallup research.  The series opened with a look at building trust.    Discussions of the other three — compassion, stability and hope — will follow.
During a time in which it's easy to see the world's problems as insurmountable, when heartbreak and outrage seem like the emotional baseline, and everyone is exhausted from an unprecedented year of solitude and strife, NLN's value lies in what it is not. It is not divisive, partisan or devoid of action. It is not an echo chamber or a troll-filled comment section ripe for derision.
"NLN provides something truly lacking in the world today: a place where strangers can come together and share their lived experience and not be afraid. It's not the news, the internet or your social media. It's a place where minds can be changed and real progress can be made," says Mudd, whose Louisiana-based CLP has built NLN into its three-year strategic plan
 "It's the conversations and the connections that expose you to a new perspective and lived experience. I tell our alumni that now instead of only being connected to our 1,000+ network, with NLN they now have access to 700,000 leaders who are real resources. Where else can you get that opportunity? Who wouldn't want to bring that kind of value to their lives, their community and beyond?"
What better time than now to change the world?